ICE FISHING MADISON CHAIN OF LAKES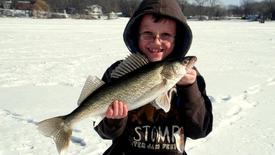 Ice fishing is something that we look forward to all year. It is a great time to score that limit of large pan fish for a fish fry or to land a trophy Walleye or Pike. We provide ice shacks for rent all winter (ice permitting) on the Madison Chain of Lakes. All ice shack rentals include transportation to and from the shack, as well as all of the necessary fishing equipment. Depending on the species you would like to target determines which shack you will be put in as they are located in different spots targeting different species of fish. Shacks are available for daily rental, weekend rentals, or even the whole week. Shacks can accommodate 4 - 6 adults depending on which shack you rent. These trips include a brief instruction at the beginning of the day on the general technique to use throughout the day.

---
2017 Pricing

* Subject to change

Fully Guided Trip - 8hr

$475 - up to 2 people

$75 - per add. person

Half Day Guided Trip - 4hr

$350 - up to 2 people

$75 - per add. person

Heated Shack Rental w/Equipment - 8hr


$60 per person

*3 person minimum

Heated Shack Rental


No Equipment

- 8hr

$40 per person

*3 person minimum

Sleigh Rides$20 per person
*Price does not include sales tax or tip


Make a Deposit

Depending on the season our rental shacks are located on perch and/or crappie areas. Some years one species is more present than the other and we focus on the better bite to provide more action for your group. Species specific trips are available on our fully guided trips which cover multiple bodies of water around Southern WI.


In addition to providing ice shack rentals and guided trips on inland lakes we also offer ice fishing trips for huge trout in Lake Michigan. Most of these trips take place in the Milwaukee area. This is a very unique fishery that can only be found around certain areas of the great lakes. As a general rule Early and Late ice seem to be the best times to target these monsters. Generally this is late December-early January and March.


Nothing beats a hot meal on the ice! For all of our ice shack rental customers we offer a grill to use for cooking up your lunch. A full service shore lunch can be included with fully guided full day trips (8 hr) where we can cook up some of your catch from the trip or a pre-planned meal.


This location will change based on weather and fishing conditions. We will let everyone who has booked a shack rental if we decide to move, however, if you are looking to come out for a sleigh ride please make sure to call us the day to verify where we will be going out from.