2017 Salmon-A-Rama Update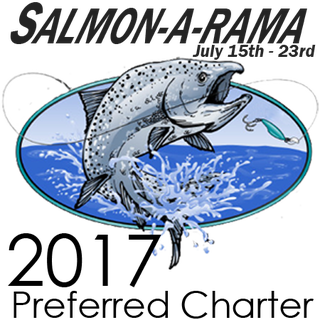 Thank you to everyone that came out for the 2017 Salmon-A-Rama fishing tournament. Our biggest fish of the tournament was a 26.2lb Chinook Salmon that was the 15th largest fish of the tournament. Over the course of the tournament we boated nearly 200 fish. In the Top Ten Pro Division, our largest ten fish averaged 22.12lbs which left us in 3rd place, just 1.3lbs from first place and .5lbs out of second place.
For those of you who do not know about Salmon-A-Rama it is the world's largest fresh water fishing tournament and takes place in all of Lake Michigan. With a top Prize of $25,000 it brings people from all around, this year we had clients from as far East as North Carolina and as far West as Idaho. As a Preferred Charter, everyone that fishes on our boat during that week is entered in the competition for a chance to win some big money.
If you would like to reserve a spot for next year's Salmon-A-Rama we are taking reservations. The tournament will be taking place from July 14, 2018 – July 22, 2018. Trips are available in either 5hr or 8hr which means that there are only 15-22 slots depending on how trips are scheduled.
---